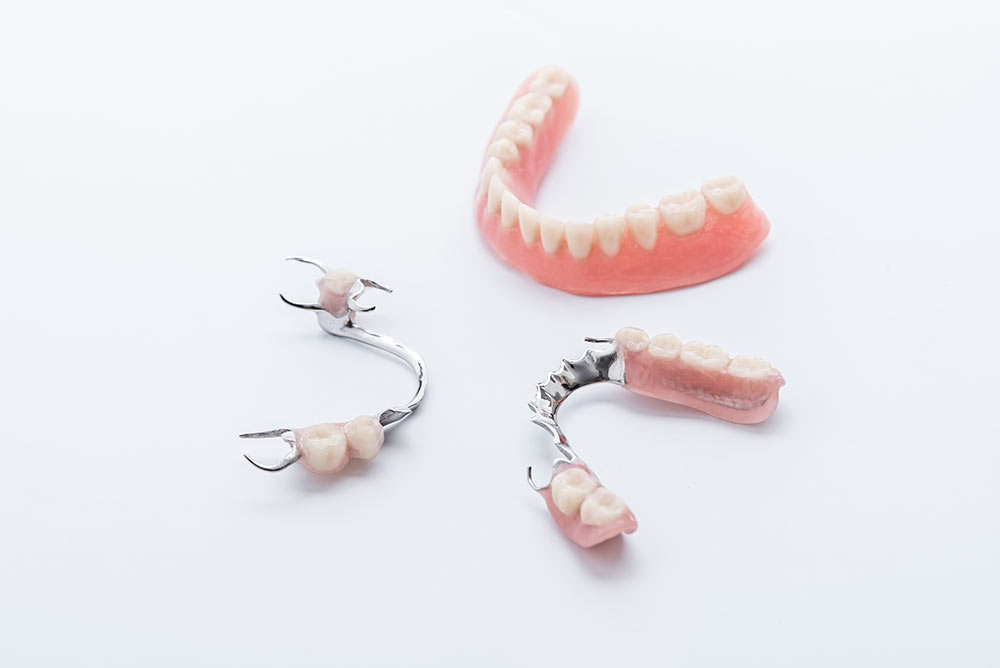 It is estimated that more than half of American men and women are affected by tooth loss. Though it is a relatively common problem for patients over the age of 50, tooth loss can certainly occur much earlier due to disease, injury, and other oral health issues. Fortunately, advances in restorative dentistry technology and modern dental prosthetics make it possible to provide edentulous patients with lifelike dentures and partials. At Highlands Ranch dentist practice of Dr. George Lunn, we offer a comprehensive array of restorative dental solutions to help patients reclaim their smiles, including removable dentures and partials.
Advantages of Dentures and Partials
Patients who are edentulous, or missing all of their teeth, suffer a variety of consequences throughout the course of their daily lives. Smiling and speaking become a constant source of embarrassment, and it can be nigh impossible to eat a complete diet. This is where dentures and partials come into the picture. By creating a custom denture specifically molded to fit your gums, jaw, and palate, Dr. Lunn can help you overcome the many negative aspects of missing teeth.
Another option for patients seeking replacement for a complete arch of teeth is implant-supported dentures. Like traditional dentures, implant-supported dentures are designed to replace an entire arch of missing teeth. Using dental implants surgically placed within the jaw, Dr. Lunn can effectively restore a patient's dentition in a way that is structurally more secure. The custom denture is attached to the implanted posts, thereby eliminating the need for denture adhesives. Talk to Dr. Lunn and our team about your options when it comes to dentures and partials, and finally enjoy the many benefits of a full set of teeth and a natural-looking smile.
REBUILDING YOUR SMILE WITH DENTURES AND PARTIALS
A denture is a removable dental appliance replacement for missing teeth and surrounding tissue. They are made to closely resemble your natural teeth and may even enhance your smile.
There are two types of dentures – complete and partial dentures. Complete dentures are used when all of the teeth are missing, while partial dentures are used when some natural teeth remain. A Partial denture not only fills in the spaces created by missing teeth, it prevents other teeth from shifting.
A Complete denture may be either "conventional" or "immediate." A conventional type is made after the teeth have been removed and the gum tissue has healed, usually taking 4 to 6 weeks. During this time the patient will go without teeth. Immediate dentures are made in advance and immediately placed after the teeth are removed, thus preventing the patient from having to be without teeth during the healing process. Once the tissues shrink and heal, adjustments will have to be made.
Dentures are very durable appliances and will last many years, but may have to be remade, repaired, or readjusted due to normal wear.
REASONS FOR DENTURES
Complete Denture – Loss of all teeth in an arch.
Partial Denture – Loss of several teeth in an arch.
Enhancing smile and facial tissues.
Improving chewing, speech, and digestion.
What Does Getting Dentures Involve?
The process of getting dentures requires several appointments, usually over several weeks. Highly accurate impressions (molds) and measurements are taken and used to create your custom denture. Several "try-in" appointments may be necessary to ensure proper shape, color, and fit. At the final appointment, your dentist will precisely adjust and place the completed denture, ensuring a natural and comfortable fit.
It is normal to experience increased saliva flow, some soreness, and possible speech and chewing difficulty, however this will subside as your muscles and tissues get used to the new dentures.
You will be given care instructions for your new dentures. Proper cleaning of your new dental appliance, good oral hygiene, and regular dental visits will aid in the life of your new dentures.